Summer Programs
TCDN provides two programs for preschool and school age children during the summer:
The Preschool Cricket Camp (children 4-5 years transitioning to kindergarten the next school year)
The Summer Club (children entering 1st through 5th grades)
Preschool Cricket Camp
TCDN's Cricket Camp is a program for pre-kindergarten age children attending kindergarten in the upcoming school year. The program operates in July and August within the preschool location, with both part day and full day enrollment options. Program activities include sports & games, creative arts, science, cooking, woodworking, water play, outdoor and community exploration, and are planned around thematic topics of interest to children and teachers. Special guests and field trips supplement program activities.
In Cricket Camp, teachers also prepare children for entering kindergarten, by exploring language and literacy development. Reading development focuses on comprehension, vocabulary, story structure, and memory skills. Writing development focuses on letter identification, sounds and formations. The WSSD Handwriting Without Tears curriculum is referenced as a guideline. Math skills are practiced as children count, measure, sort, compare, chart, graph, and explore patterns. Fine and gross motor development is practiced with indoor and outdoor activities. Social skills are developed through play and teachers guide children as they communicate, share and build friendships similar to the experience in a kindergarten classroom. Teachers also ensure responsibility and healthy practices, including organization, self-help skills and good hygiene.
Cricket Camp will enhance your child's summer in a fun, creative and meaningful way!
For more information, download our 2019 Cricket Camp Flyer
The Summer Club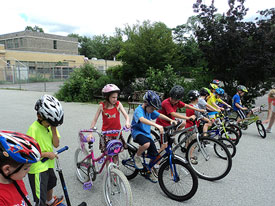 The Summer Club is a recreation program for children entering grades 1-5. The program is located within the spacious, air-conditioned building TCDN operates from on the grounds of the Swarthmore-Rutledge Elementary School. The program begins the end of June and operates though late August. Campers may enroll by the week, with hours from 7:15am – 3:30 pm or 7:15am – 6:00pm. There are flexible enrollment options for children enrolled is WSSD special programs, such as ESY, Summer Panthers, or ESL classes. Discounts apply for early bird registration and for additional children enrolled.
The Summer Club is a creatively-planned program organized around several thematic segments, sometimes resulting in a culminating "event". Children make choices to experience interesting activities and quests, while having a great deal of fun! Activity choices incorporate sports & games, the arts, science and nature exploration, theater, and woodworking. Field trips to museums, nature centers, theaters, and other local venues take campers into the local community. Several artists and special visitors bring enrichment projects to Summer Club, and abundant water play, including inflatables, is incorporated.
Summer Club staff is experienced, enthusiastic and skilled. All have First Aid and CPR training. What staff do best is create a unique summer opportunity for children that combines the freedom of play and choice, interesting and challenging activities, and opportunities to not only adventure out and about, but meet visitors that share one-of-a-kind interests.
For more information, download our Summer Club 2019 Flyer
To Register or for more information, download our 2019 Summer Club Registration Packet