Who We Are
Established in 1972, TCDN is a non-profit, non-sectarian, childcare and education organization that provides safe, nurturing and enriching programs for children 12 months old through sixth grade.
At five locations within the Wallingford-Swarthmore School District, TCDN operates seven programs licensed by the Pennsylvania Department of Human Services, and accredited by state and national systems of quality improvement.
TCDN's mission is to: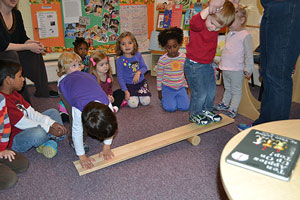 Provide an atmosphere where growth and learning take place. In a homelike atmosphere of safety and trust, TCDN supports children's development by valuing individual differences, promoting self-esteem, helping children learn to live and work cooperatively, and by fostering creativity and critical thinking skills.
Ensure that developmentally appropriate methods are used for each program. Through active engagement with materials in the environment, project work arising from interests, or relationships with others in the group, children make choices and teachers respond with caring, respect and inquiry to guide new learning.
Arrange programs into family groupings (mixed age groups). Family grouping provides a framework for children to learn from each other in a spirit of cooperation. The sensitivity and responsibility of taking care of each other leads to increased pro-social behaviors such as sharing and helping, and resembles the comfort and security of a family. Younger children observe, emulate, and learn from the older children, while the older children are given the opportunity to express leadership and responsibility along with patience and verbal skills. Family grouping provides real contexts for children to show and strengthen their disposition to be nurturers and leaders.