Who We Are
Established in 1972, TCDN is a non-profit, non-sectarian, childcare and education organization that provides safe, nurturing and enriching programs for children 12 months old through fifth grade.
At four locations within the Wallingford-Swarthmore School District, TCDN operates seven programs licensed by the Pennsylvania Department of Human Services, and accredited by state and national systems of quality improvement.
Mission Statement
To support families by inspiring learning and community connection in a child-focused organization.
Vision Statement
TCDN inspires learning, connects families, and builds the community by providing high quality preschool and school age care.  TCDN is dedicated to meeting the needs of the community through expanded programs and to providing a diverse, equitable, and inclusive learning environment.
Core Values
 Provide a welcoming, safe, nurturing, and enriching environment for children, families and staff.
 Help children discover their interests and grow in confidence and independence while guiding children in their love of learning.
 Teach children the importance of kindness and be a role model for positive social interaction.
 Create an environment which fosters positive, open, and ongoing communication with families.
 Respect and nurture children, families, along with staff through acceptance of various cultures and opinions.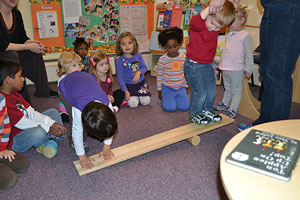 Diversity Statement
According to its Vision Statement, TCDN strives to "respect and nurture children, families, along with staff, through acceptance of various cultures and opinions"
Recognizing that diverse characteristics enhance any organization, and that an education and childcare provider must reflect our many different cultures and ideas, TCDN actively recruits and encourages the inclusion, among the families we serve, the teachers and staff we employ, and the Board of Directors that serves us, of people from diverse backgrounds, and recognizes the following characteristics (among others) as potentially diverse:
Race
Age
Ethnicity such as BIPOC (Black, Indigenous, Person of Color)
National origin
Gender identity and sexual orientation (such as LGBTQ+)
Physical ability
Religion or spiritual background
Relationship/marital/family status
Socioeconomic background
Work/life experience
TCDN is committed to advancing diversity and inclusion and works continuously to expand and promote opportunities for all TCDN families, staff and Board members.